Those spinach balls are the best keto appetizer with a delicious cheesy chewy texture and spinach garlic flavor. Plus, the recipe is gluten free so all your friends can enjoy them!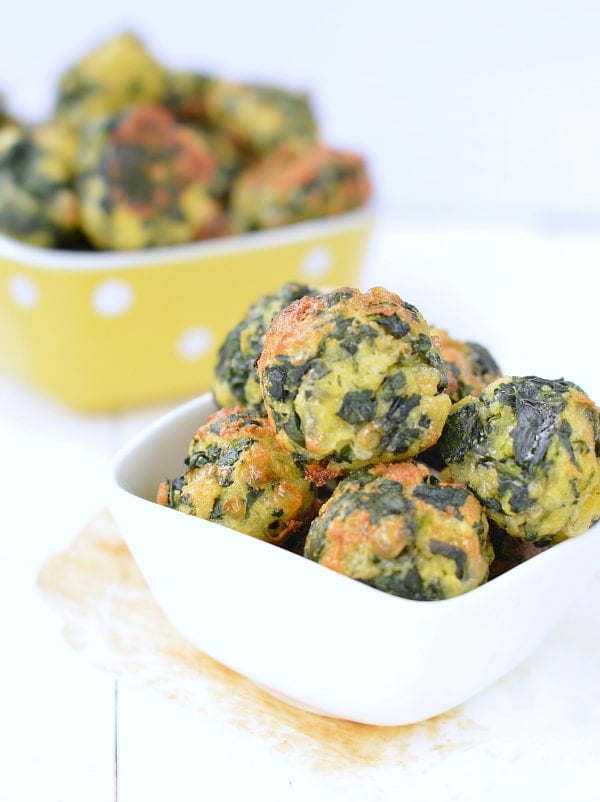 What's a spinach ball?
A spinach ball is a very popular appetizers perfect for Thanksgiving or Christmas. It is a small cheesy ball filled with grated cheese, eggs and spinach. The classic original recipe use panko breadcrumb as a binder. Here I am sharing with you both recipe, the original recipe for the purist and the keto spinach ball recipe using a combo of healthier flour, almond flour and psyllium husk.
How to make keto spinach balls ?
Keto spinach balls are an adaptation of the original recipe using low carb flours instead of panko breadcrumb. Let see the ingredients you need to make this healthy appetizer.
Spinach – fresh or frozen both will work well. Always measure spinach, cooked, drained and chopped for precision.
Eggs
Grated mozzarella – any hard grated cheese will ork but mozzarella create the most impressive cheesy effect
Almond flour – or almond meal if you prefer
Ground psyllium husk – husk is 100 % fiber,  it had the chewy textue to the balls and hold the ingredients together into a lovely round shape
Fresh herbs – it is optional but highly recommended to boot the flavor. The best herbs are parsley or coriander
Garlic salt – or fresh garlic and salt but I am lazy sometime and both result in a delicious spinach ball

How to make original spinach balls ?
If you are not on a keto diet and you are looking for the original spinach ball recipe simply replace the combo of almond flour and psyllium husk by 1 cup of panko crumb and decrease grated cheese to half cup. I recommend you look at the recipe card where oth recipe are displayed.
An easy no fail recipe
This is a NO FAIL recipe. If you have got a large mixing bowl and you are not scared to get your hands a bit dirty, here you go! You are few minutes away of making the most delicious appetizer for your next party.
How to freeze and make ahead your appetizer?
Those are perfect appetizers to make ahead for Christmas or any party. Those are the steps to freeze them with success.
Lay the the balls, uncooked, on a plate covered with parchment paper
 Leave half thumb space between each balls to avoid them to stick together
After an hour, transfer into an airtight plastic box
It is clearly your BEST alternatives to potato chips for your next party!
How to defrost them ?
You don't have to defrost those balls. Place the frozen balls onto a baking tray covered with baking paper. Bake at 200C (370F) for 20-30 mintues or until golden.
Best dips to eat with !
Those cheezy spinach bites are way better HOT and dipped into sauce ! I recommend few spinach ball dip recipe below :
I hope you enjoyed this new recipe if so share a picture of your creation on instagram with me !
xoxo Carine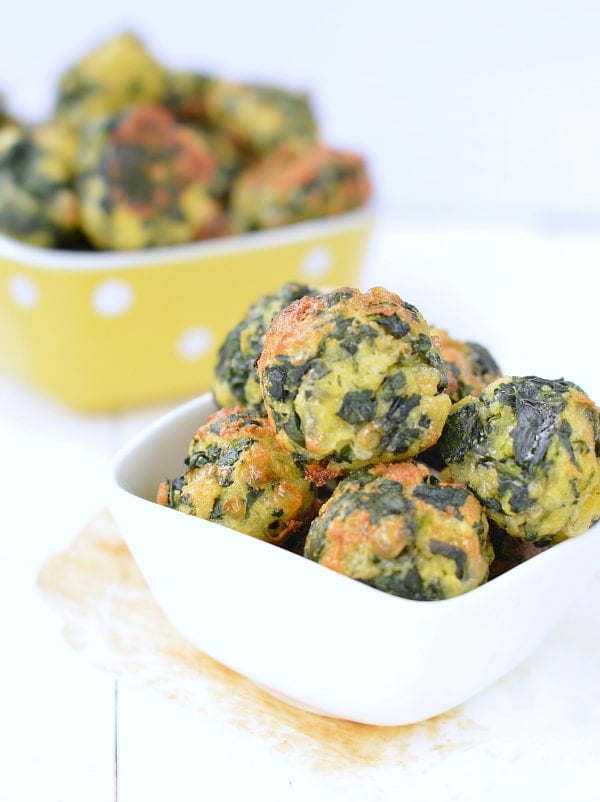 Spinach balls
Those Cheesy balls are the best easy appetizer to impress your guest. It is made in few minutes using only few ingredients.
Prep Time: 15 mins
Cook Time: 30 mins
Total Time: 50 mins
22 balls
Print The Recipe
KETO SPINACH BALLS RECIPE
6 cup fresh spinach leaves trimmed, washed (230 g) makes 2/3 cup (160g) packed cooked spinach
3 large eggs beaten
1 cup grated mozzarella or combo of parmesan and mozzarella (120g)
1/4 cup chopped fresh parsley or herb of your choice (optional but flavorsome!)
1 teaspoon garlic powder
1 tespoon salt
1 cup almond flour (115 g)
2 tablespoon ground psyllium husk (12g)
ORIGINAL RECIPE
6 cup fresh spinach leaves trimmed, washed (230 g) makes 2/3 cup (160g) packed cooked spinach
3 large eggs beaten
1/2 cup grated mozzarella (60g) -or combo of parmesan and mozzarella
1/4 cup chopped parsley or fresh herb of your choice (optional but recommended!)
1 teaspoon garlic powder
1 teaspoon salt
1 cup gluten free panko crumbs (75 g)
Preheat oven to  370 F (200 C).

Trim and wash the fresh spinach leaves.

Place the leaves in a large mixing bowl and cover with boiling water. Cover the bowl with a lid and set aside for 3 minutes. 

Rinse the spinach with cold tap water. Drain and using your hands squeeze all the remaining water. You should measure 2/3 cup (160 g) of packed cooked spinach leaves. If you are using frozen spinach, defrost and measure this quantity.

Place on a chop board and finely chop the cooked spinach. Transfer into a mixing bowl.

Add beaten eggs, grated cheese, fresh herbs, salt, garlic powder, almond flour and psyllium husk (or panko gluten free crumbs if you are making the original recipe) . You can also add salt and pepper if your cheese is not very salty. I did not add salt.

Combine with a spoon until it forms a batter from which you are able to form balls.

If too moist add slightly more almond flour or crumb until easy to roll as ball with your hands.

Place the balls on a non-stick cookie tray covered with baking paper leaving half thumb between each bites. You should be able to make 22 spinach balls, one ball is about 1 tablespoon of batter.

Bake at 370F (200C) for 20-30 minutes or until golden on the top.

Serve immediately with dips like sugar free tomato suce, guacamole, mustard or tzatziki.
Freeze
Freeze on a plate covered with parchment paper. After 1 hour they are frozen enough to be transfered into an airtight container. Keep in the freezer up to 3 months.

You don't need to defrost the balls before baking. Place them on a tray covered with parchement paper and bake as regular.
Spinach measurement :  you need about 6 cups of fresh spinach. It makes about 2/3 cup (160 g) of cooked, squeezed and packed spinach. It is ok to use frozen spinach as soon as you have 2/3 cup cooked, squeezed, packed spinach. Cheese options: you can replace grated cheddar but mozzarella, parmesan, colby, emmental or any hard grated cheese you love. Herbs options: those spinach balls are very tasty with fresh parsley, dill or basil. Use your favorite herb or mix it!  
Nutrition Facts
Spinach balls
Amount Per Serving (1 ball)
Calories 49 Calories from Fat 14
% Daily Value*
Fat 1.6g2%
Carbohydrates 1.8g1%
Fiber 0.8g3%
Sugar 0.3g0%
Protein 3.4g7%
Net Carbs 1g
* Percent Daily Values are based on a 2000 calorie diet.