Looking for an healthy spinach pizza ? You will be amazed by this spinach pizza crust, an guilt-free pizza that don't skimp on flavour!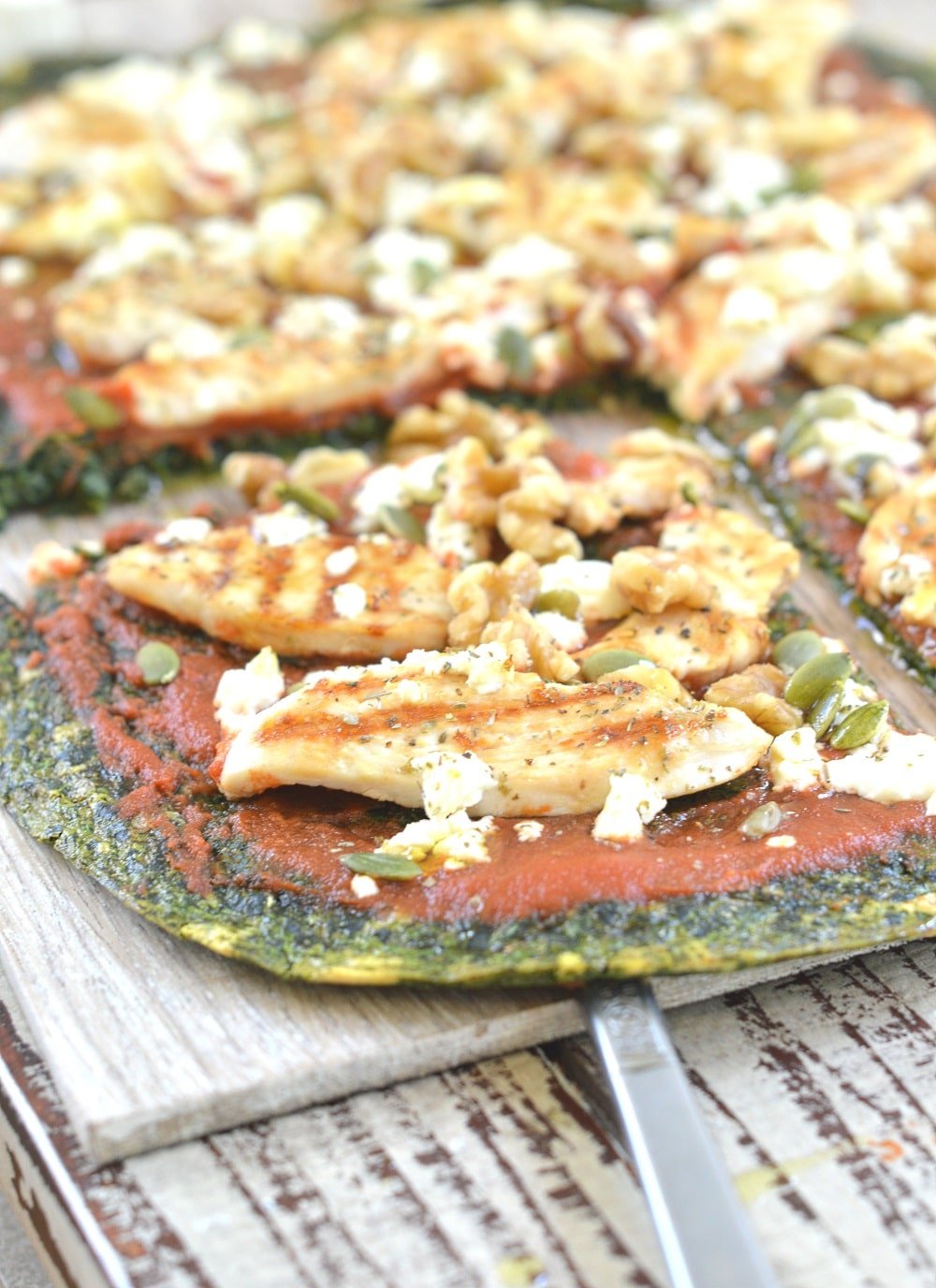 With the summer coming in New Zealand I am very enjoying finger food with a small glass of red wine during the week end. Tonight I did what I called a low carb spinach pizza crust which is mainly made of fresh spinach, eggs and a bit of cheese. Spinach is a very low carb vegetable and because this recipe do not contain any flour it is a very low carb pizza crust recipe perfect for my diabetic diet and  if you are on a paleo diet it is perfect for you too. It is an easy recipe to prepare. All you need to do is to blend all the base ingredients in a stand mixer to prepare the dough.
Spinach pizza a guilt-free pizza for your Saturday night!
You know I am French right? And French love goat cheese and walnuts. It is a combo that French recipe use a lot. That is why I choose to top my pizza with grilled chicken breast, feta goat cheese, walnuts and extra pumpkin seeds. This flavor reminds me my childhood in France.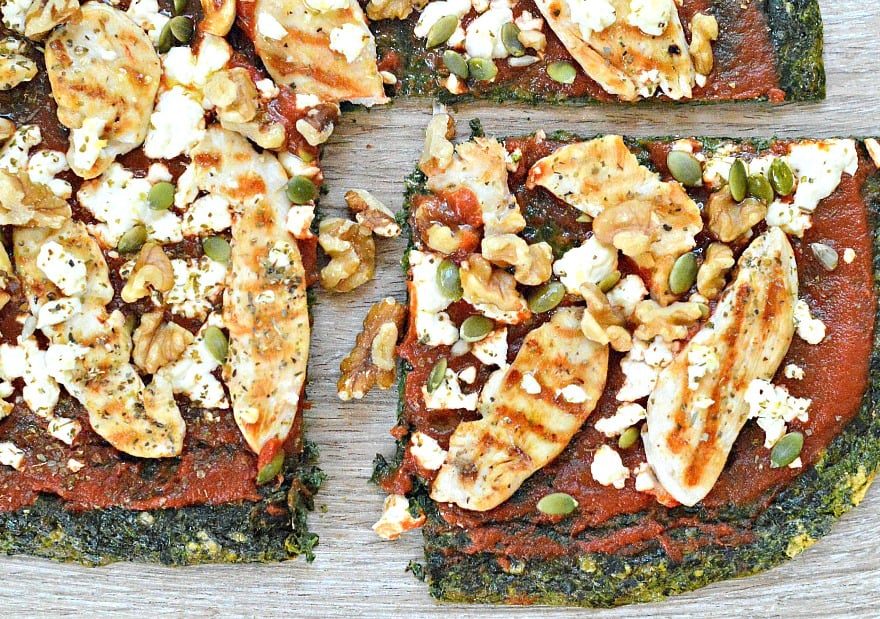 This crust is super easy to make but first ensure you wash and drain the spinach very well before blending. If the spinach contains too much water it could make the mixture too runny and it will not form a crust when baked. At first sight it looks like an omelette baked in the oven but it contains only 2 eggs and lots of spinach which makes this recipe good for your kids too. An easy way to boost their veggie intake too. 
This is how it looks like after baking.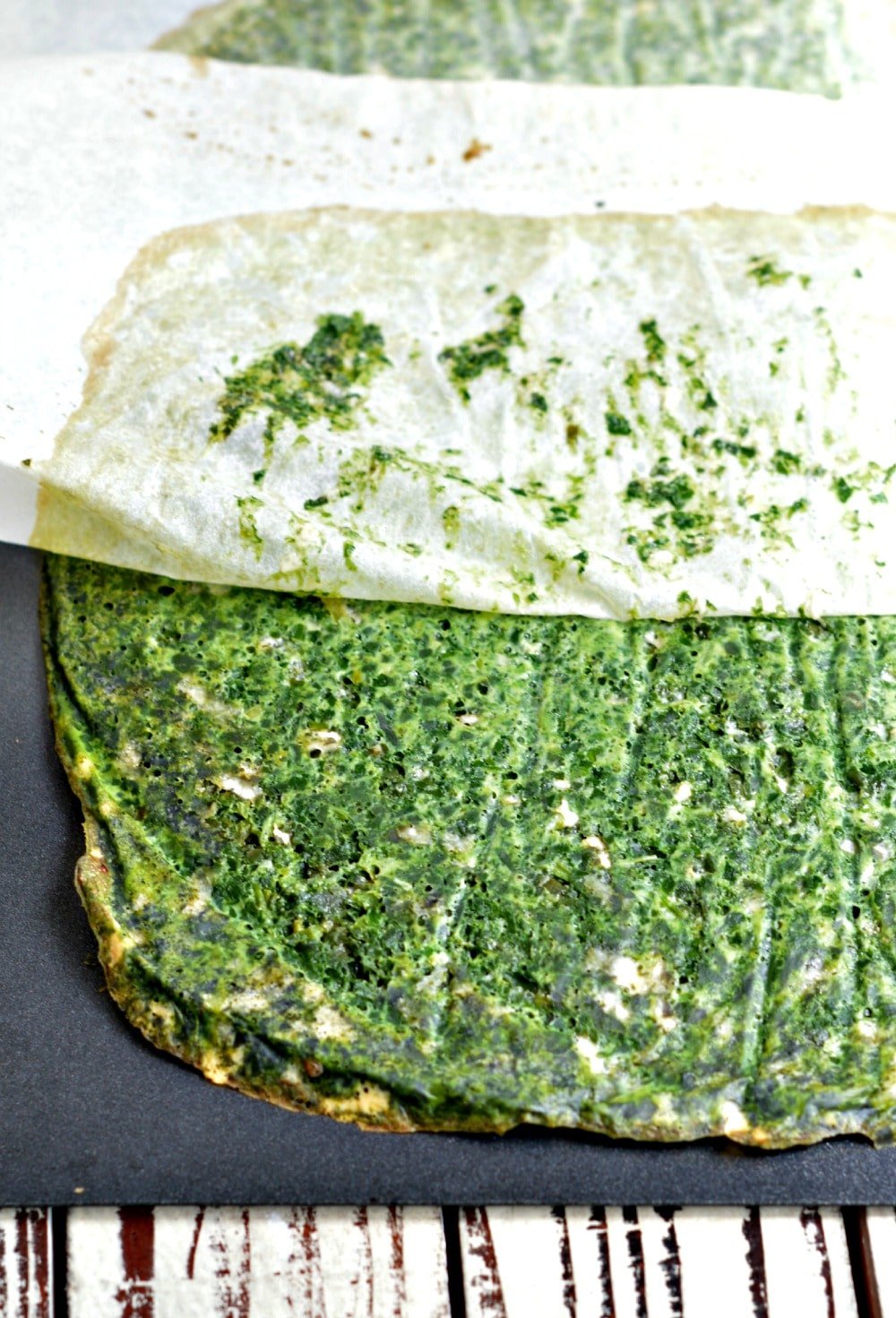 I garnished the pizza with home made tomato sauce, grilled chicken breast cooked on the BBQ. The BBQ is never too far away from the kitchen when you live in New Zealand! And I love the taste of BBQ grilled chicken. If you are looking for other low carb pizza crust made with vegetables check my previous recipe : the Cauliflower Pizza Crust HERE.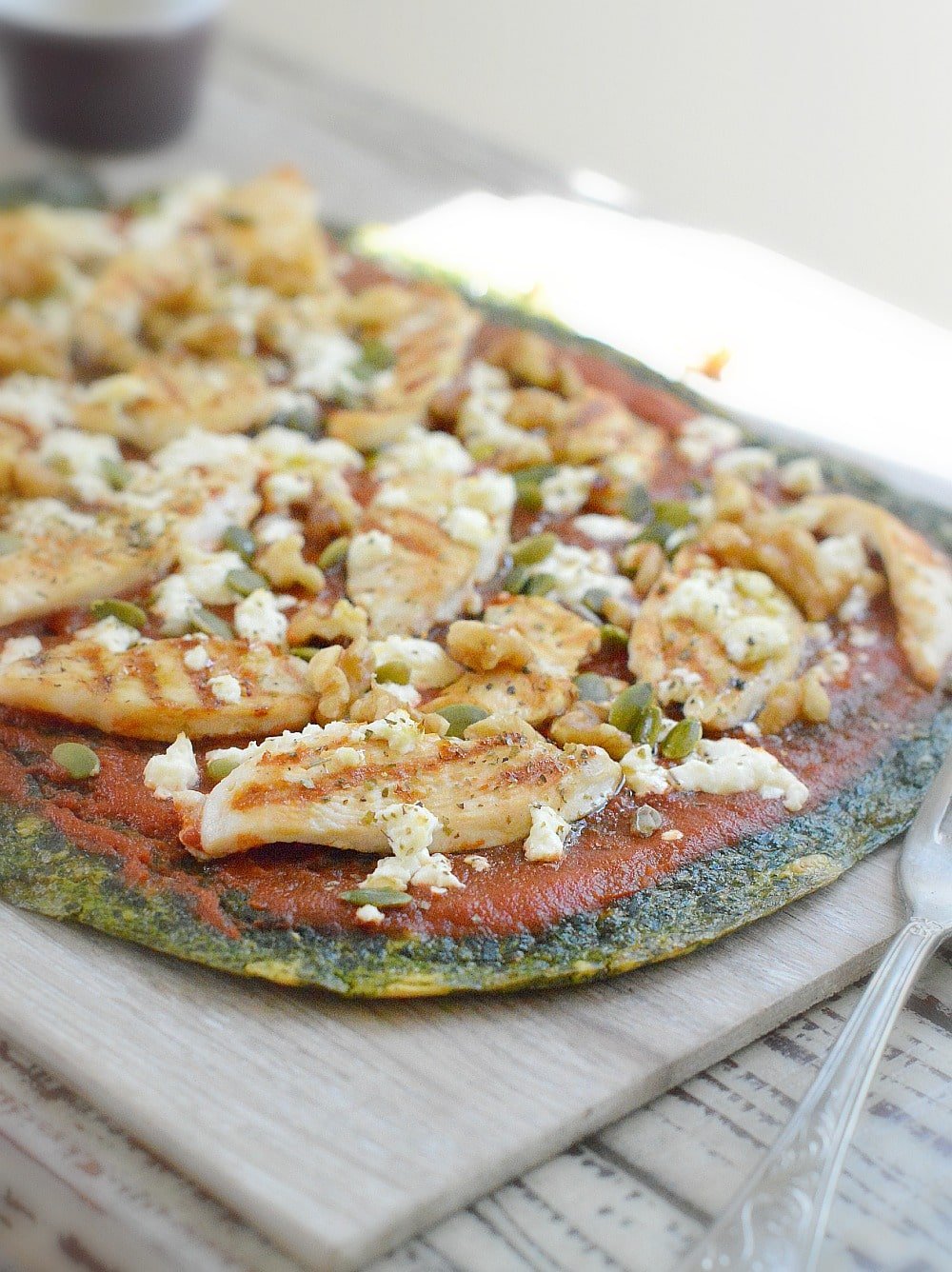 Oh and yes Emma -my little girl very enjoyed this pizza. I found this recipe easy to eat by kids as the crust stay light and soft. I was very happy to look at her eating the spinach hidden in the crust!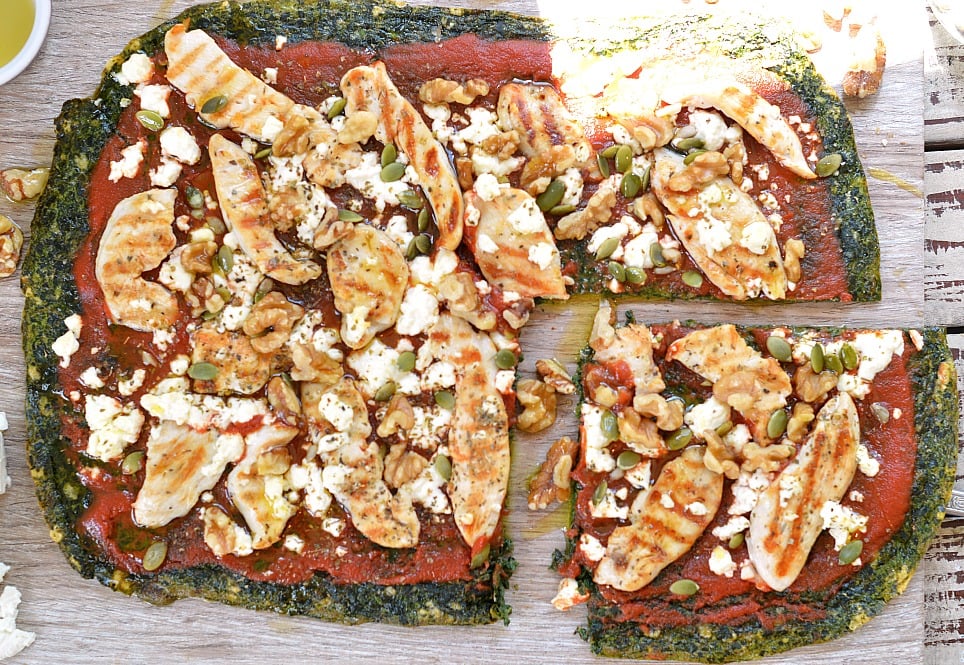 Low Carb Spinach Pizza Crust
Ingredients
14 oz (400 g) fresh spinach leaves
1/2 cup grated edam cheese
2 eggs
Salt, Pepper
1 tablespoon dried oregano
Toppings
2 chicken breast, grilled
Home made tomato puree
50 g low fat feta cheese
2 tbsp Pumpkin Seeds
2 tbsp Walnuts,, chopped
A drizzle of virgin olive oil
Instructions
Wash and drain very well the spinach leaves. Remove the feet of each leaves.
Use your hands to squeeze the leaves until all the water is away. If there is too much water the recipe will not work.
In a stand mixer pour the fresh spinach leaves and mix until it is finely minced - about 1-2 minutes.
Add the eggs, cheese, salt, pepper and marjoram.
Blend again for 30 seconds until it forms a thick mixture.
On a baking tray covered with baking paper transfer the spinach egg mixture.
Form a square with your hands to looks like a square pizza.
If some water is release on the side remove it with an absorbent paper before baking.
It is probably because you did not dry the spinach leaves enough after washing them or the leaves contains a bit more water than usual.
Bake at 200 C for 35 minutes or until it is well cooked like an omelette.
It could be a bit messy and released some extra liquid during the first baking minutes. You can add a foil paper under the tray for easy cleaning.
Garnish the spinach base with tomato sauce, grilled chicken breast, feta cheese, pumpkin seeds, chopped walnuts or any other topping you like.
Return in the oven for 5-10 minutes or until the feta cheese is soft, melted and the flavour blend.
Serve with a drizzle of virgin olive oil.
https://www.sweetashoney.co/spinach-pizza-crust/
Nutrition panel is for the spinach crust without toppings. The pizza crust serves 6 portions/slices. Nutrition panel is for one slice.