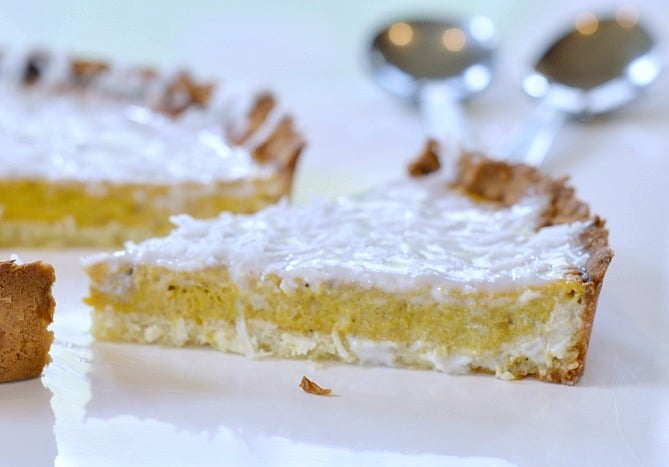 Last week I finally baked my first pumpkin pie. I know it sounds crazy that I never made a pumpkin pie before as it is one of the classic dessert pie in English speaking countries but it is actually not something we eat in France. Anyway I heard so much good things about pumpkin pie that I wanted to develop my own recipe: A Sugar Free Pumpkin Pie with Coconut Frosting. As I am crazy about coconut I did a coconut pie crust – recipe is here and I covered the top of the pie with coconut cream and shredded coconut sweetened with Naturals crunchy stevia powder. 
As it was my first pumpkin pie I did not really know what to expect in term of taste or texture. I did not made a thick pumpkin filling as I was not sure I like it. But what a lovely surprise! The texture was soft and creamy while very sweet even if I only used a little bit of stevia powder to sweetened the pumpkin filling.
I also really love the combination of pumpkin and coconut and if you are a coconut lover as I do this coconut pumpkin pie is just a bomb!
Sugar Free Coconut Pumpkin Pie
Pumpkin coconut pie
Ingredients
1

coconut pie crust - check recipe here https://www.sweetashoney.co.nz/coconut-pie-crust/

Pumpkin filling

4

eggs

beaten

2

cups

fresh pumpkin puree

1

tsp

spice mix made with cinnamon

nutmeg, cloves and star anise

1

tsp

vanilla paste or vanilla extract

2

tbsp

stevia powder

Coconut topping

1

cup

coconut cream

thick

1/4

cup

shredded coconut

2

tbsp

stevia powder
Instructions
Preheat the oven at 180 C.

Prepare the coconut crust following the recipe here: https://www.sweetashoney.co.nz/coconut-pie-crust/

Pre bake the crust for 15 minutes and then add the pumpkin filling below.

Pumpkin filling

Mix all the pumpkin filling ingredients together in a bowl.

Pour filling mixture into the prebaked crust.

Bake for 30 minutes at 180C or until the center is set and firm.

Cool down at room temperature.

Coconut topping

In a bowl mix the coconut cream, stevia powder and shredded coconut together.

Brush the top of the pumpkin pie.

Refrigerate for 30 minutes.

Enjoy and store in the fridge until 4 days.